Bro. Benjamin A. Zamostny, PM
Worshipful Master
Bro. James F. McVay
Senior Warden
Bro. Gini Khalsa
Secretary
Bro. Douglas S. Barton
Senior Deacon
Bro. Bradford Ireland
Senior Steward
Bro. Robert A. Rauth, PM
Junior Warden
Bro. Roger P. Douglas, PM
Treasurer
Bro. Walter P. Gilbert
Junior Deacon
Bro. Bentley W. Straley
Junior Steward
During the past few years Friendship Lodge participated in several community service projects.
From November 1 through December 17, 2016, the Lodge conducted a food drive to benefit the Community Action Council's Food Pantry. The Lodge made it easy for the public to drop off food and cash without even leaving their cars. Members were on the sidewalk in front of the Lodge ready to accept donations for five hours each Saturday. Even Santa Claus and one of his elves were there near Christmas to offer support. The Lodge collected over 400 pounds of food and more than $170 in cash.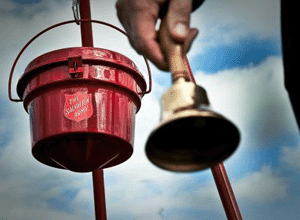 On Saturday, November 26, 2016 and again on Friday, November 24, 2017 the Lodge rang the bell for the Salvation Army. With temperatures in the 30's, members stood in front of the local Walmart for 12 hours to collect funds for the Salvation Army.
For a number of years, the Lodge has provided our auditorium to the Hagerstown Exchange Club to hold their annual Children's Holiday Party where more than 100 parents and their children gathered. The families are part of a health department program for first-time mothers and fathers who were learning about prenatal care, breastfeeding the how-tos of changing diapers and much more.
Year
Worshipful Master
Senior Warden
Junior Warden
Secretary
Treasurer
Senior Deacon
Junior Deacon
Senior Steward
Junior Steward
Chaplain
Tyler
Marshall
2023
Benjamin A. Zamostny
James F. McVay
Robert A. Rauth
Gurmindersingh J. Kahlsa
Roger P. Douglas
Douglas Barton
Walter P. Gilbert
Brad Ireland
Bentley Straley
Shawn E. Hall
Jay G. Lauver
2022
Benjamin A. Zamostny
Robert A. Rauth
James F. McVay
Gurmindersingh J. Kahlsa
Roger P. Douglas
Stephen K. Gaudette
Jay G. Lauver
Walter P. Gilbert
H. Brent Webb
Shawn E. Hall
Brad Ireland
2021
Benjamin A. Zamostny
Ryan G. Derby
Jason M. Nicol
Gurmindersingh J. Kahlsa
Roger P. Douglas
Mark W. Graber
Stephen K. Gaudette
Shawn E. Hall
Walter P. Gilbert
Scott R. Paddack
Jay G. Lauver
2020
Robert A. Rauth
R. Joseph White
George M. Witherington
Gurmindersingh J. Kahlsa
Roger P. Douglas
Mark W. Graber
Stephen K. Gaudette
Shawn E. Hall
Walter P. Gilbert
Scott R. Paddack
Jay G. Lauver
2019
Robert A. Rauth
Ryan G. Derby
Walter C. Frazee
Shawn E. Hall
Roger P. Douglas
George M. Witherington
Stephen K. Gaudette
R. Jeffrey Preston
Gurmindersingh Khalsa
Scott R. Paddack
Jay G. Lauver
Matthew C. Garvey
2018
R. Joseph White
Ryan G. Derby
Walter C. Frazee
Terry L. Smith
Robert A. Rauth
George M. Witherington
Stephen K. Gaudette
R. Jeffrey Preston
Thomas E. Pereschuk, Jr.
Scott R. Paddack
Jay G. Lauver
2017
R. Joseph White
Ryan G. Derby
Jason M. Nicol
Terry L. Smith
Robert A. Rauth
R. Jeffrey Preston
George M. Witherington
Stephen K. Gaudette
Thomas E. Pereschuk, Jr.
Scott R. Paddack
Jay G. Lauver
Matthew C. Garvey
2016
Benjamin A. Zamostny
Terry L. Smith
Robert A. Rauth
2015
Benjamin A. Zamostny
Terry L. Smith
Robert A. Rauth
2014
Benjamin A. Zamostny
Terry L. Smith
Robert A. Rauth
2013
Benjamin A. Zamostny
Terry L. Smith
Robert A. Rauth
2012
Benjamin A. Zamostny
Terry L. Smith
Robert A. Rauth
2011
Benjamin A. Zamostny
Terry L. Smith
Robert A. Rauth
2010
2009
2008
Robert A. Rauth
Terry L. Smith
Lloyd A. Chaney
2007
Robert A. Rauth
Terry L. Smith
Lloyd A. Chaney
2006
William C. Shank
Terry L. Smith
Robert A. Rauth
2005
William C. Shank
Terry L. Smith
Robert A. Rauth
2004
William C. Shank
Terry L. Smith
Robert A. Rauth
2003
Roger P. Douglas
Terry L. Smith
Robert A. Rauth
2002
R. Joseph White
Terry L. Smith
Robert A. Rauth
2001
Royden P. Gilleo
2000
1999
Robert A. Rauth
1998
Roger P. Douglas
1997
1996
C. Thomas Brown
M. Robert Wheatley
Jay W. Hodges
1995
C. Thomas Brown
M. Robert Wheatley
Jay W. Hodges
1994
David L. Kane
M. Robert Wheatley
Jay W. Hodges
1993
Jay W. Hodges
M. Robert Wheatley
Robert A. Rauth
1992
Jay W. Hodges
M. Robert Wheatley
Robert A. Rauth
1991
David L. Kane
M. Robert Wheatley
Robert A. Rauth
1990
M. Robert Wheatley
Robert B. White
Joseph S. Ward, Jr.
1989
Samuel O. Sowers
Robert B. White
Joseph S. Ward, Jr.
1988
R. Joseph White
Robert B. White
Cyrus L. Lecron
1987
Earl J. Gooding
Robert B. White
R. Joseph Mosteller
1986
Samuel L. Gordon
Robert B. White
William C. Sixeas
1985
Harvey L. Hogamier
Robert B. White
William C. Sixeas
1984
Harvey L. Hogamier
Robert B. White
William C. Sixeas
1983
Samuel L. Gordon
Edwin R. Ebersole
Melvin H. Shackelford
1982
Earl J. Gooding
Edwin R. Ebersole
Melvin H. Shackelford
1981
Donald R. Johnston
Charles S. Fuller
Melvin H. Shackelford
1980
Dennis W. Martin
Charles S. Fuller
Melvin H. Shackelford
1979
Donald R. Johnston
Charles S. Fuller
Melvin H. Shackelford
1978
William C. Herchenrother
Charles S. Fuller
Melvin H. Shackelford
1977
William C. Herchenrother
Charles S. Fuller
Melvin H. Shackelford
1976
W. Raymond Ketrow, Jr.
Charles S. Fuller
Melvin H. Shackelford
1975
Paul A. Wageley
Charles S. Fuller
Melvin H. Shackelford
1974
Paul A. Wageley
Charles S. Fuller
Melvin H. Shackelford
1973
Durbin B. College
Charles S. Fuller
Melvin H. Shackelford
1972
Harold D. Sprecher
Charles S. Fuller
Melvin H. Shackelford
1971
Thomas F. Barber
Charles S. Fuller
Melvin H. Shackelford
1970
John W. Leggett, III
Charles S. Fuller
Melvin H. Shackelford
1969
Edwin R. Ebersole
Charles S. Fuller
Melvin H. Shackelford
1968
Harry E. Gouff, Jr.
Charles S. Fuller
Melvin H. Shackelford
1967
Paul H. Myers
Charles S. Fuller
Melvin H. Shackelford
1966
Lloud E. Reed
Charles S. Fuller
Melvin H. Shackelford
1965
Frank F. Wheatley
Charles S. Fuller
Melvin H. Shackelford
1964
Richard C. lger
Charles S. Fuller
Melvin H. Shackelford
1963
Paul R. Athey
Charles S. Fuller
Lloyd E. Miller
1962
Sheldon P. Lawson
Charles S. Fuller
Lloyd E. Miller
1961
J. Philip Showers
Charles S. Fuller
Lloyd E. Miller
1960
Melvin H. Shackelford
Charles S. Fuller
Lloyd E. Miller
1959
Daniel W. Resser
Charles S. Fuller
Lloyd E. Miller
1958
Samuel O. Sowers
Charles S. Fuller
Lloyd E. Miller
1957
Clarence F. Harbaugh
Charles S. Fuller
Lloyd E. Miller
1956
Howard G. Stottlemyer
Clarence M. Young
Lloyd E. Miller
1955
Ira M. Roth
Clarence M. Young
Lloyd E. Miller
1954
Waldron E. Dando
Clarence M. Young
Lloyd E. Miller
1953
John M. Lacey
Clarence M. Young
Lloyd E. Miller
1952
Joseph F. Falardeau
Clarence M. Young
Lloyd E. Miller
1951
William H. Reisner, Jr.
Clarence M. Young
Lloyd E. Miller
1950
William E. Beyard
Clarence M. Young
Lloyd E. Miller
1949
Charles S. Fuller
Clarence M. Young
Lloyd E. Miller
1948
Walter F. Smith
Clarence M. Young
Lloyd E. Miller
1947
Orion F. Dorman
Clarence M. Young
Lloyd E. Miller
1946
Walter E. Cearfoss
Clarence M. Young
Lloyd E. Miller
1945
Merrill K. Baker
Clarence M. Young
Chester R. Hays
1944
Marshall F. Twigg
Clarence M. Young
Chester R. Hays
1943
Willis M. Spong
Clarence M. Young
Chester R. Hays
1942
Herman C. Hixson
Clarence M. Young
Chester R. Hays
1941
Roger E. Haynes
Charles E. Johnston
Chester R. Hays
1940
Charles O. Hartsock
Charles E. Johnston
Chester R. Hays
1939
Howard E. Nalley
Charles E. Johnston
Chester R. Hays
1938
Joseph S. Ward
Charles E. Johnston
Chester R. Hays
1937
Albert H. Shielman
Charles E. Johnston
Chester R. Hays
1936
Frank T. Lynch
Charles E. Johnston
Chester R. Hays
1935
Herman M. Beyard
Charles E. Johnston
Chester R. Hays
1934
A. K. McGraw
Charles E. Johnston
Chester R. Hays
1933
A. K. McGraw
Charles E. Johnston
Chester R. Hays
1932
Lloyd E. Miller
Charles E. Johnston
Chester R. Hays
1931
Claude M. Potterfield
Charles E. Johnston
Chester R. Hays
1930
Thomas N. Hollinger
Charles E. Johnston
Chester R. Hays
1929
William J. Crabbs
Charles E. Johnston
Chester R. Hays
1928
Guy S. McKee
Charles E. Johnston
Chester R. Hays
1927
Robert Hoover Brindle
Charles E. Johnston
Chester R. Hays
1926
J. Lloyd Harshman
Charles E. Johnston
Chester R. Hays
1925
Clarence M. Young
Charles E. Johnston
Chester R. Hays
1924
George R Gehr, HJr.
Charles E. Johnston
Chester R. Hays
1923
Ralph R. Garver
Charles E. Johnston
Chester R. Hays
1922
Vernon M. Miller
Charles E. Johnston
Chester R. Hays
1921
John J. Fiery
Charles E. Johnston
Chester R. Hays
1920
Albert B. Beyard
Charles E. Johnston
Chester R. Hays
1919
Harry H. Harman
Charles E. Johnston
Chester R. Hays
1918
Scott F. Minnich
Charles E. Johnston
Chester R. Hays
1917
Harry H. Harman
Charles E. Johnston
Chester R. Hays
1916
Roy Danzer
Charles E. Johnston
Chester R. Hays
1915
Robert H. McCauley
Charles E. Johnston
Chester R. Hays
1914
Frank N. Hoffmeier
Charles E. Johnston
Chester R. Hays
1913
Edward S. Darner
Charles E. Johnston
Chester R. Hays
1912
Harry R. Snyder
Charles E. Johnston
Chester R. Hays
1911
Charles M. Danzer
Charles E. Johnston
Chester R. Hays
1910
Daniel C. Gilbert
Charles E. Johnston
Chester R. Hays
1909
George W. Roher
Charles E. Johnston
Chester R. Hays
1908
George W. Roher
Charles E. Johnston
Chester R. Hays
1907
John G. Bower
Charles E. Johnston
Chester R. Hays
1906
Samuel Newcomer Kelley
Charles E. Johnston
Chester R. Hays
1905
Albert Heard
Charles E. Johnston
Chester R. Hays
1904
George B. Oswald
Charles E. Johnston
Chester R. Hays
1903
George B. Oswald
Charles E. Johnston
Chester R. Hays
1902
Abraham C. Strite
Charles E. Johnston
Chester R. Hays
1901
William H. Reisner
Charles E. Johnston
Chester R. Hays
1900
Albert Heard
Charles E. Johnston
Chester R. Hays
1899
Albert Heard
Charles E. Johnston
Chester R. Hays
1898
Harry K. Startzman
Charles E. Johnston
D. A. Bennet
1897
William P. Lane
Abraham C. Strite
D. A. Bennet
1896
William P. Lane
Abraham C. Strite
D. A. Bennet
1895
George R. Hutson
Abraham C. Strite
D. A. Bennet
1894
George R. Hutson
Abraham C. Strite
D. A. Bennet
1893
Aaron V. Huntzberry
Abraham C. Strite
D. A. Bennet
1892
William H. Ridenour
Abraham C. Strite
D. A. Bennet
1891
Frank F. Cook
Abraham C. Strite
D. A. Bennet
1890
J. Frank Miller
William C. Edwards
D. A. Bennet
1889
J. Frank Miller
William C. Edwards
D. A. Bennet
1888
Charter Arrested
1887
J. Frank Miller
William F. Gumbert
D. A. Bennet
1886
William K. Hoffman
William F. Gumbert
D. A. Bennet
1885
Isaac Lowenstein
William F. Gumbert
D. A. Bennet
1884
Charles F. Manning
J. W. Adams
D. A. Bennet
1883
William F. Gumbert
J. W. Adams
D. A. Bennet
1882
Edward Stake
J. W. Adams
D. A. Bennet
1881
Albert A. Mobley
E. M. Mobley
W. L. Bowers
1880
Albert A. Mobley
E. M. Mobley
W. L. Bowers
1879
J. McP. Scott
E. M. Mobley
W. L. Bowers
1878
J. McP. Scott
E. M. Mobley
W. L. Bowers
1877
J. McP. Scott
E. M. Mobley
W. L. Bowers
1876
J. McP. Scott
E. M. Mobley
W. L. Bowers
1875
Edward Stake
E. M. Mobley
W. L. Bowers
1874
C.E.S. McKee
E. M. Mobley
W. L. Bowers
1873
Edward Stake (6 months)
John Cook
Thomas A. Boullt
1873
U.S. Brumbaugh (6 months)
John Cook
Thomas A. Boullt
1872
Andrew K. Syester (6 months)
John Cook
Thomas A. Boullt
1872
Edward Stake (6 months)
John Cook
Thomas A. Boullt
1871
William McK. Keppler
John Cook
Thomas A. Boullt
1870
H.C. Rizer
John Cook
Thomas A. Boullt
1869
Edward M. Mobley
John Cook
Thomas A. Boullt
1868
L. P. Blood
John Cook
Thomas A. Boullt
1867
William McK. Keppler
John Cook
Thomas A. Boullt
1866
William McK. Keppler
John Cook
Thomas A. Boullt
1865
L. P. Blood
John Cook
Thomas A. Boullt
1864
L. P. Blood
William M. McDowell
Thomas A. Boullt
1863
L. P. Blood
William M. McDowell
Thomas A. Boullt
1862
L. P. Blood
George S. Miller
Thomas A. Boullt
1861
T. G. Robenson
George S. Miller
Thomas A. Boullt
1860
T. G. Robenson
Joseph P. Mong
Thomas A. Boullt
1859
Andrew K. State
Joseph P. Mong
Thomas A. Boullt
1858
Andrew K. State
T. G. Robenson
Thomas A. Boullt
1857
William Steffey
Samuel Cyester
John Nitzel
1856
William Steffey
Samuel Cyester
John Nitzel
1855
William Steffey
Samuel Cyester
John Nitzel
1854
William Steffey
Samuel Cyester
John Nitzel
1853
William Steffey
Samuel Cyester
John Nitzel
1852
Thomas A. Boullt
Andrew G. Boyd
C. Hilliard
1851
Thomas A. Boullt
Andrew G. Boyd
C. Hilliard
1850
Thomas A. Boullt
Andrew G. Boyd
C. Hilliard
1849
Thomas A. Boullt
Andrew G. Boyd
C. Hilliard
1848
Thomas A. Boullt
Andrew G. Boyd
C. Hilliard
1847
Otho H. Williams (6 months)
William Handey (3 months)
C. Hilliard
1847
Thomas A. Boultt (6 months)
Andrew G. Boyd (9 months)
C. Hilliard
1846
Thomas A. Boultt
William Steffey
John Nitzel
1845
Thomas A. Boultt
William Steffey
John Nitzel
1844
Joseph Hollman
William Steffey
John Nitzel
1843
Joseph Hollman
William Steffey
John Nitzel
1842
Joseph Hollman
William Steffey
John Nitzel
1841
Joseph Hollman
William Steffey
John Nitzel
1840
William Steffey
Adam Shoop
John Nitzel
1839
Jacob Rhodes
William Steffey
Jacob Wolf
1838
Jacob Rhodes
William Steffey
Jacob Wolf
1837
Jacob Rhodes
William S. Morrison
Jacob Wolf
1836
William S. Morrison
Charles Hesletine
Jacob Wolf
1835
William S. Morrison
Charles Hesletine
Jacob Wolf
1834
William S. Morrison
Charles Hesletine
Jacob Wolf
1833
William Harvey
Charles Hesletine
Jacob Wolf
1832
Meredith Helm
Charles Hesletine
Jacob Wolf
1831
Meredith Helm
Charles Hesletine
Jacob Wolf
1830
Cephas Barteson
Joseph Fiery
Jacob Wolf
1829
Daniel Mallott
William Harvey
Jacob Wolf
1828
Meredith Helm
William Harvey
Jacob Wolf
1827
Meredith Helm
William Harvey
Jacob Wolf